Borosilicate Glass Fibers
Lifatec USA represents LiFaTeC GmbH in sales and technical support for all of the USA and Canada
Standard Numerical Apertures: 0.54, 0.57, 0.64, 0.85
Standard fiber diameters of 30, 40, 50, 60 & 70Ám
Bundle sizes available based on your specifications
Fibers can be supplied in 10 meter lengths, "endless"" (up to 1500m) on spools, or cut to your specifications
All fibers are manufactured in Germany by our partner company, LiFaTeC GmbH. This state-of-the-art, ISO-9001 certified facility represents the peak of German engineering expertise, assuring unmatched fiber quality and consistency.
For additional information about LiFaTeC GmbH and transmission properties of our glass fibers, please visit LiFaTeC GmbH
Competent technical support ensures proper fiber selection for your project.
PLEASE CONTACT US WITH ANY QUESTIONS YOU MAY HAVE IN CHOOSING THE CORRECT FIBER TYPE FOR YOUR APPLICATION. WE WELCOME THE OPPORTUNITY TO PROVIDE A QUOTE ON YOUR NEXT FIBER PROJECT!
E-mail
info@lifatec.com
or call
(315) 689-1497
All fiber orders are shipped and invoiced from Lifatec GmbH, Germany.
---
Blue Enhanced Fibers
Borosilicate glass fibers with excellent transmission in the blue
LiFaTeC GmbH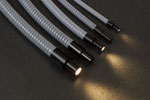 N.A. .54, .57 & .64
Finest quality optical fiber in the industry. (see below)
Item ID: GF30 (NA=0.57)

Item ID: GF40 & *GF50 (NA = 0.54) equivalent to Schott B3

Item ID: GF60 & *GF70 (NA = 0.64) equivalent to Schott A2

*High brightness level : 91% core / 9% clad
---
General Illumination Fibers
Industry standard fibers at the lowest possible cost
LiFaTeC GmbH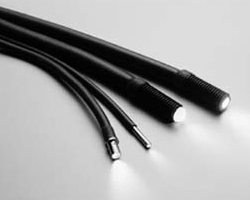 For general lighting & sensing applications
N.A. .57
Item ID: GF20 (NA=0.57)
---
High Numerical Aperture Fibers
Glass fibers for the visible spectrum requiring wide angle illumination or detection.
LiFaTeC GmbH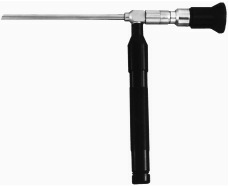 N.A = 0.87
Acceptance angle (total) = 119 degs
Fiber diameter = 30Ám
Bundle lengths = 10 meters (custom lengths available)
Bundle diameters = as required
Item ID: SFM (Equivalent to Schott fiber 'W Fiber')